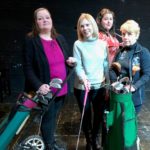 It may not be golf season outdoors yet, but the links will heat up indoors this spring as two golf-centric theatrical performances take place at The Citadel Stage in Port Huron, showcasing humor and a little life- insight for men and for women.  The two shows—yes, that's right, two shows—will run the last weekend in March and the first two weekends in April on alternating nights.  "The Ladies Foursome," opens on March 28, while "The Foursome" will debut on March 29.  While the two shows have a central theme in common revolving around a round of golf, they are two distinctly different looks at the lives and laughter surrounding the golfers in each performance.
The Foursome
Rick, Ted, Donnie, and Cameron are home for their 15-year college reunion, which makes for a great time to go out for a game of golf and catch up on each other's lives. Unlike their college days, the conversation doesn't include talk of beer and final exams, but of colonoscopies, home-security systems, alcoholism, Buddhism, and more.  "In 'The Foursome,' the major winner may well be the audience members, who discover humor in male concerns about virility and relationships and in surprise truths revealed." –baltimoresun.com
The Ladies Foursome
The day after their friend Cathy's funeral, Margot, Tate, and Connie gather for a round of golf in honor of their recently departed fourth. There, they are joined by another woman, an old friend of Cathy's they'd never met. Over the course of 18 holes, secrets and confessions unravel as the women discuss love, sex, children, and everything in between.  It's a funny, fast-paced, heartwarming story of friendship inspired by The Foursome.  "Imagine Sex and the City on a golf course! From Canada's best-loved storyteller Norm Foster, comes the funny, fast-paced story of friendship in The Ladies Foursome." — theatermania.com
Both plays are penned by Norm Foster, the most frequently produced playwright in Canada, and a darling of dinner theatre and community groups.  Often compared to American playwright Neil Simon, Foster uses humor to uncover the humanity of his characters like Simon did and the laughs are plentiful.  "Both of these shows provide humor, some surprises and intelligent insight to the characters," said Jeanine McCanham, of Port Huron, director of both productions.  "We have great casts for both performances and both shows will appeal equally to men and women." "The Ladies Foursome" will open with a special Thursday night "Ladies Night" on March 28 and will perform again on March 30, April 5 and 7 and again on April 13.   "The Foursome" premieres March 29 and will perform again on March 31, April 6, and April 12 and 14.   Both shows are at The Citadel Stage, 609 Huron Ave, Port Huron with evening performances at 7 p.m. and Sunday matinees at 3 p.m.  Tickets are priced at $16 and can be purchased in advance online at EnterStageRight.org or at the door.