We love to share your events with our listeners! Selected events from this page will be featured in our Community Bulletin Board Announcements on the air! 
Click HERE to submit your events.
---

Breakout Rooms
October 5 @ 11:30 am

-

October 6 @ 5:00 pm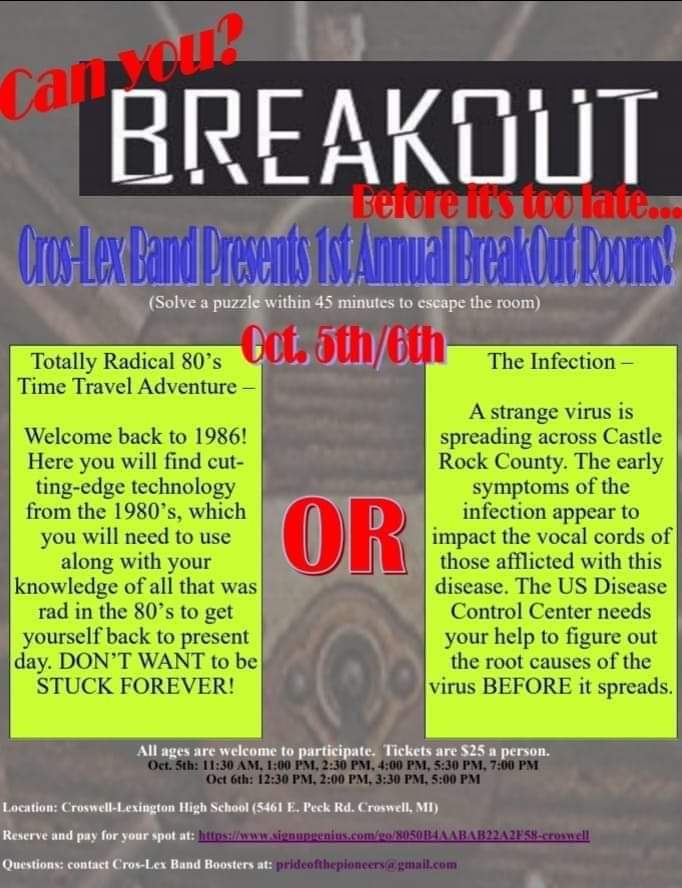 Band Breakout rooms (10/5 & 10/6) – The Croswell Lexington Band program is hosting Band Break Out rooms to find out if you have what it takes to escape.  These breakout rooms have fun themes that will have puzzles for participants to solve to escape before the time is up.  All ages are welcome to participate.  Tickets are $25.00 a person (Maximum of 6 people per room).    EARLY BIRD special – $20.00 a person before 10/1. Anyone that is interested in trying to escape our break out rooms will be able to register and pay online in advance of the event.  The proceeds of this event will help the Croswell Lexington Band students pay for their upcoming Fall 2020 band trip to Florida.
There are two different room themes to choose from:
Totally Radical 80's Time Travel Adventure – Welcome back to 1986!  Here you will find all of our cutting-edge technology from the 1980's which you will need to use along with your knowledge of all that was rad in the 80's to get yourself back to present day.  You only have 45 minutes before you are stuck in the past forever!
The Infection – A strange virus is spreading across Castle Rock County.  The early symptoms of the infection appear to impact the vocal cords of those afflicted with this disease.  The US Disease Control Center needs your help to figure out the root causes of the virus before it spreads.
Reserve your adventure today at http://tinyurl.com/clbreakout
Contact us at prideofthepioneers@gmail.com for any questions.
Location:
Croswell Lexington High School
5461 Peck Road
Croswell, MI  48422
Times:
10/5    11:30 AM, 1:00 PM, 2:30 PM, 4:00 PM, 5:30 PM, 7:00 PM
10/6    12:30 PM, 2:00 PM, 3:30 PM, 5:00 PM
Each theme will be running in 3 rooms at each session time.  Please go online to reserve and pay for your session today!