We love to share your events with our listeners! Selected events from this page will be featured in our Community Bulletin Board Announcements on the air! 
Click HERE to submit your events.
---

Mallory's Masquerade Ball
November 2 @ 5:00 pm

-

10:00 pm

$7 – $10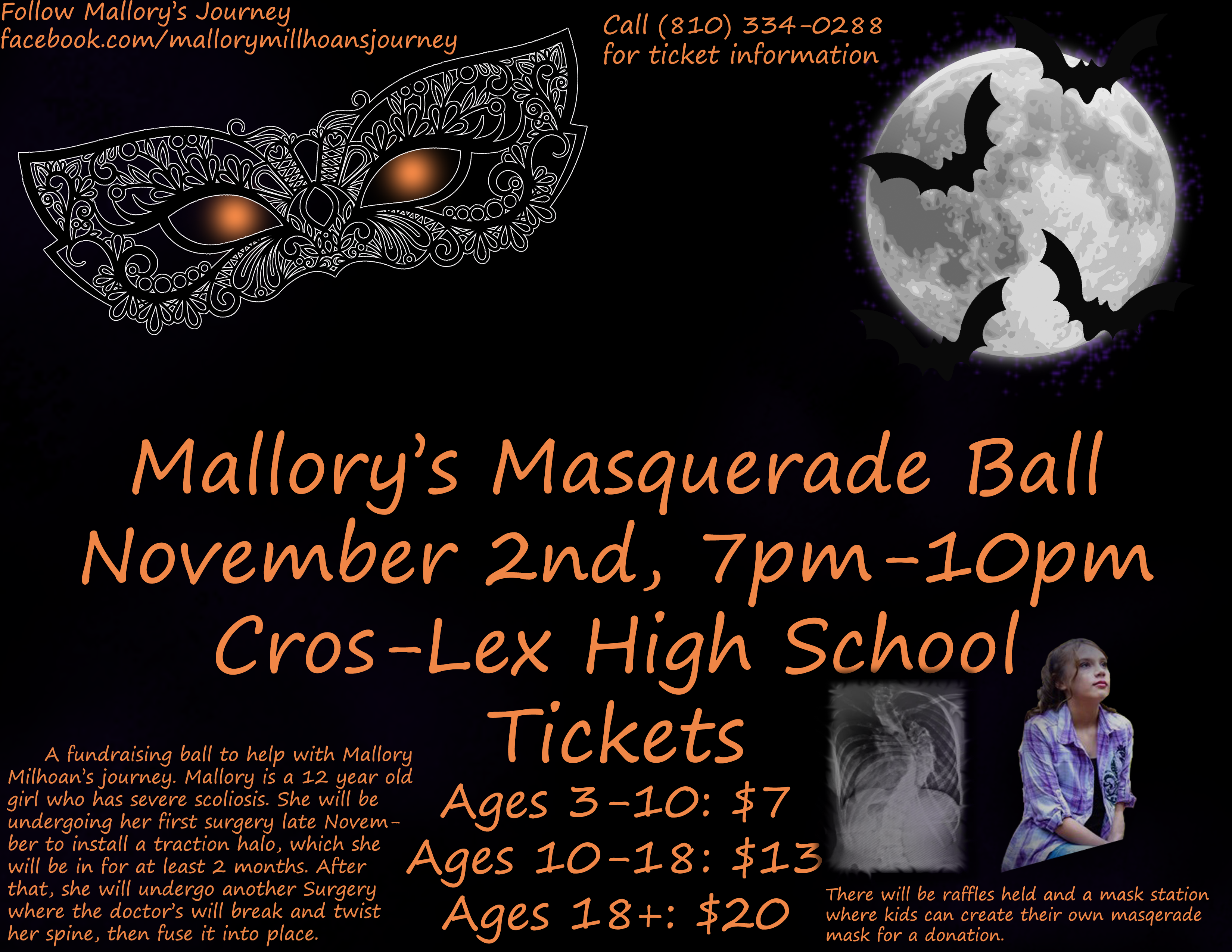 On November 2nd, we are hosting a fundraising masquerade ball for Mallory Milhoan. Mallory is a 12 year old little girl from Lakeport, Michigan. In 2016, Mallory was diagnosed with scoliosis. At the time she only had a 34° curve, she was given a back brace and watched. Unfortunately, the back brace was not helping as she grows it is getting worse. Her curve is now at an 84° curve and as she grows it is getting worse. This is crushing her right lung and putting her other organs in the area at great risk. On November 22nd, Mallory will undergo her first surgery, this surgery is to lessen the chances of the second surgery paralyzing her from the neck down. The first surgery they will be installing a halo, she will have to be in a specialized traction wheelchair to help stretch her spine for at least two months. The second surgery will be the most dangerous. They will need to break her spine from the bottom of her neck to the top of her hips, twist it, and then fuse it in place using rods and screws. Without the first surgery the chances of her being paralyzed from the neck down would be 90-95%, with the first surgery it might lower that number down to 50%. We are asking the community the rally behind Mallory. She asked for a Masquerade Ball dance, she knows this might be the last chance she ever gets to attend a dance while being able to walk. The fundraiser part is because while Mallory has insurance through her moms work, the insurance will not even come close to covering everything. They will have the hospital and doctor bills, the specialty wheelchair, a special gravity hospital bed, a wheelchair accessible vehicle, bills because her mom will need to take time off work (she is a single mom and has two other children who are younger than Mallory), etc. They could use all the help they can get. What are asking from the community is to help make this a night to truly remember by inviting people to come, but also donating to the cause. This could be monetarily or to the event itself. We could use help with decorations, food/drink, and raffle items. Thank you so much for listening to a little bit of Mallory's story and considering helping in her special night.
Facebook.com/mallorymilhoansjourney