We love to share your events with our listeners! Selected events from this page will be featured in our Community Bulletin Board Announcements on the air!
---

Pedal for the Medal Road Rally
June 27 @ 5:00 pm

-

8:00 pm

$75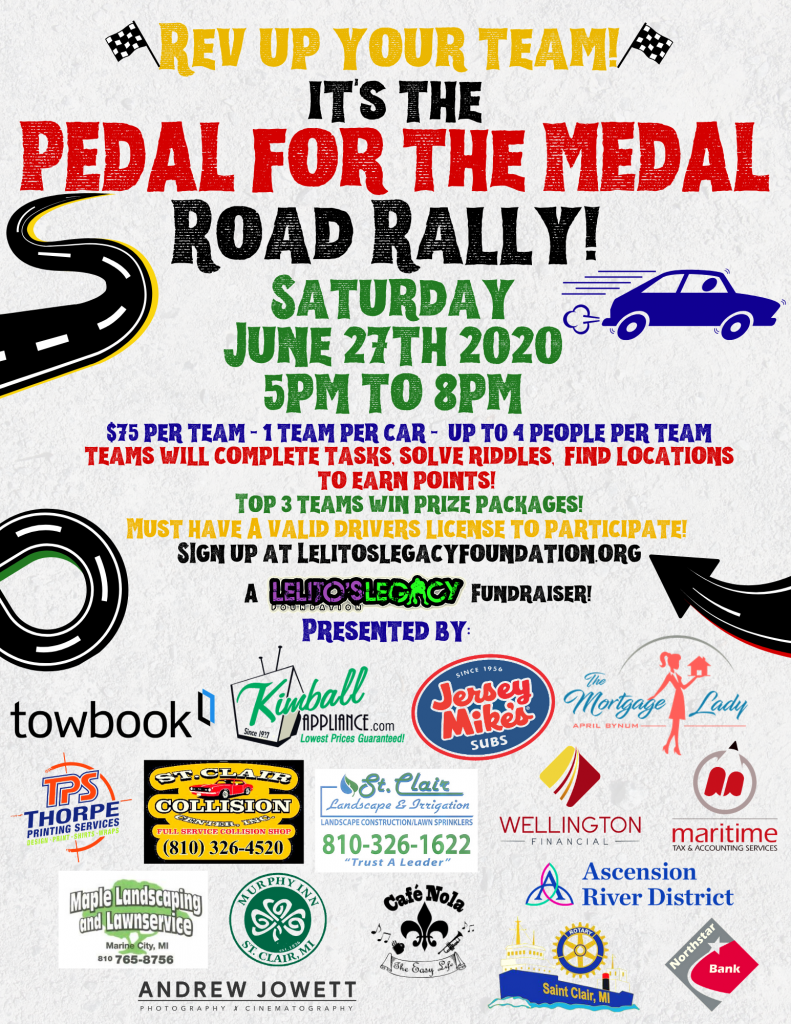 What's a Road Rally? A Road Rally is a competitive scavenger hunt event where teams (cars) compete against each other to solve riddles, find locations, and complete tasks to acquire points within a certain time frame. The best part of this event is that it is fully following all social distancing rules; no congregating, teams consist of no more than 4, no less than 2 people, and any place you may visit is open to the public! The entire Road Rally will be done through an App available on all smartphones! Teams will use the app to receive their Missiosn List and submit live answers (Text, Photo/Video & GPS) to Lelito's Legacy Foundation to receive their points!
Teams will consist of 2 to 4 players a car.
Cost is $75 a car.
TEAMS MUST REGISTER BY JUNE 24th, 2020!
WHAT YOU NEED FOR THIS EVENT:
Legal Driver
No less than 2 players, no more than 4 players a team
Registered Vehicle
a Smartphone
At least 1 member on every team must have a valid drivers license & car to take part in the event. The topics and challenges in the game are geared toward a high school education level and higher. Due to the length of time you are in the vehicle and the amount of times you would be getting in and out of the car can make this event difficult for children of lower age, but are still welcome if you think they got what it takes!
The locations you may need to visit to earn points are ALL within St. Clair County. Teams will have 3 hours (5pm to 8pm) to solve as many riddles, complete as many tasks and find locations to earn as many points as they can! The top 3 teams with the highest points will receive a porch drop off prize package at the conclusion of the event!
1st Place: 4 "gold" medals, 6 person inflatable floating tahiti island, 6 person tent, a Flame2 indoor/outdoor portable wireless speaker & a 60 qt. Igloo cooler! ($500 Value)
2nd Place: 50ft Slip & Slide, 4 Intertubes & 4 Brumate Koozies ($300 value)
3rd Place: $50 Gift Card to T's Rockin Roadhouse, Jersey Mike's Subs Fort Gratiot, Murphy's Inn and Nola Cafe ($200 Value!)
ALL PRIZES ARE GENEROUSLY DONATED BY TOWBOOK!