We love to share your events with our listeners! Selected events from this page will be featured in our Community Bulletin Board Announcements on the air! 
Click HERE to submit your events.
---

Sturgeon Festival
August 2 @ 5:00 pm

-

9:00 pm

Free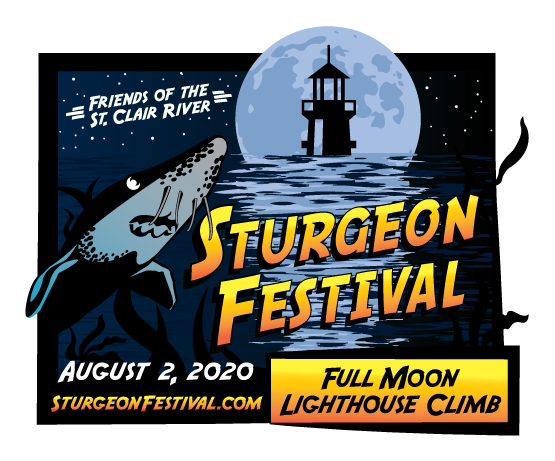 Climb the Fort Gratiot Lighthouse under the light of the full Sturgeon Moon! Sunday, August 2nd is August's full moon – the Sturgeon Moon – and the center of our "new" Sturgeon Festival Full Moon Lighthouse Climb. For eight years Sturgeon Festival has remained rooted in Great Lakes education and stewardship, so join us for our 'changed – not canceled' Sturgeon Festival!
This year Friends of the St. Clair River's Sturgeon Festival features a full moon lighthouse climb, along with dozens of hands-on activities, booths, workshops, kids area, food, music and more!
Did you know fish 6′ long and 100 years old are swimming the Great Lakes? There are fewer lake sturgeon today because they're a threatened species, but of the sturgeon still roaming the waters, most of them are in the St. Clair River. Our annual event provides the opportunity to meet the fisheries biologists that know sturgeon best, and you can even adopt a real sturgeon scientists have tagged and are tracking in the wild.
Since 2012, our partner's efforts are giving new life to this Gentle Giant in places like Flint, Toledo and Saginaw. Many investments in St. Clair River habitat restoration projects have helped turn the tide, not only for Lake Sturgeon, but other native fish too. At Sturgeon Festival, you'll learn about it all!
We are committed to remaining a vital part of the community through habitat stewardship, environmental education and sturgeon outreach. We can do this work, in part, because Sturgeon Festival is our largest annual fundraiser. Proceeds of sales at the event our programs and services.
Thank you for showing the water – and Lake Sturgeon – some love!