We love to share your events with our listeners! Selected events from this page will be featured in our Community Bulletin Board Announcements on the air!
---

United Way Sarnia Lambton Shepherd's Pie or Lasagna Take Out Dinner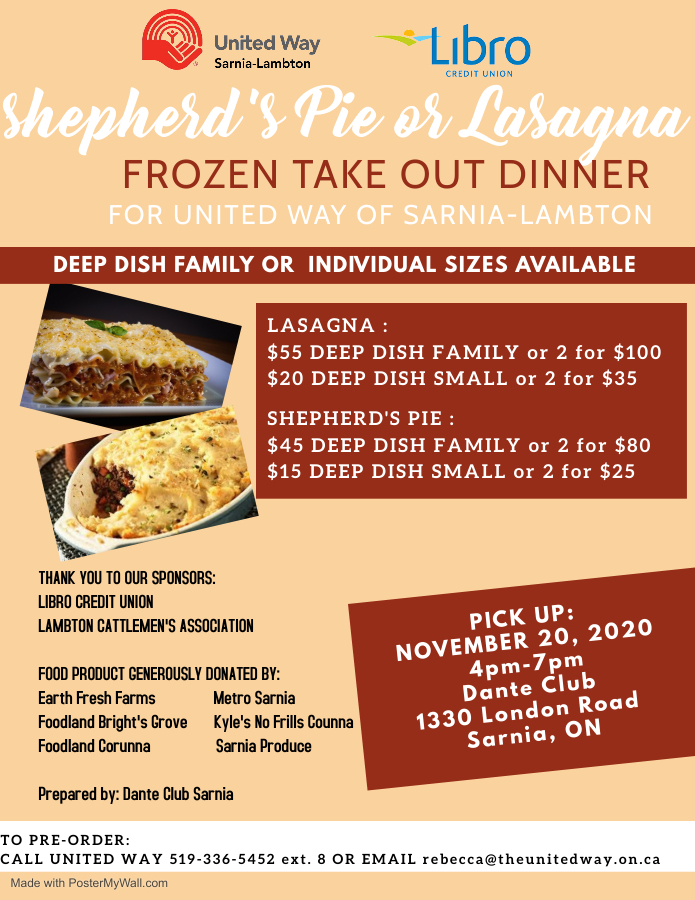 United Way of Sarnia-Lambton and Libro Credit Union are hosting a take-out dinner with a  twist! 
Pre-orders are now being accepted at the United Way office for deep-dish frozen lasagna and  deep-dish frozen shepherd's pie to be picked up at the Dante Club on Friday November 20,  2020. The meals can be taken home to reheat or put back into the freezer. 
"With the cancellation of the Locally Lambton dinner due to COVID-19 we worked with the  Lambton Cattlemen's Association to create a meal that families and individuals can enjoy," said  Vicky Ducharme, Campaign Chair. "We wanted to offer a meal that could fill freezers and fit  into everyone's schedule." 
Lambton Cattlemen's, Earth Fresh Farms, Metro Sarnia, Foodland Bright's Grove, Foodland  Corunna, Kyle's No Frills Corunna and Sarnia Produce all stepped in to help with the meal that  will be prepared by the Dante Club. 
Deep Dish Family Lasagna: $55 or 2 for $100 
Deep Dish Small Lasagna: $20 or 2 for $35 
Deep Dish Family Shepherd's Pie: $45 or 2 for $80 
Deep Dish Small Shepherd's Pie: $15 or 2 for $25 
To place your order call 519-336-5452 ext. 8 or email rebecca@theunitedway.on.ca. 
The United Way campaign is at 39% of the $1,900,000 Needs Target. All money raised from the  event will go directly into the campaign to support over 36 local programs and services.