Here's what's happening On the Bright Side this week:
Hunter Hospitality House is shining HOPE on the hospital staff at Lake Huron Medical Center and McLaren Port Huron. They decorated both of their hospitality houses which are located next to each hospital to offer HOPE to the staff passing by.  They are also doing a fundraiser for the Thumbcoast Regional Response Fund at the Community Foundation of St. Clair County. You can purchase a Hunter Hospitality House T-Shirt, and proceeds from the sale will be contributed to the fund. Visit their website
<HERE>
for more information.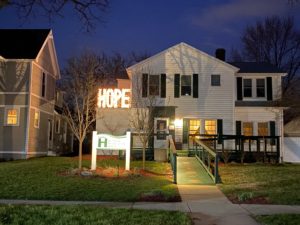 ---
Eissmann Autmotive in Port Huron is utilizing their cutting and sewing equipment to produce up to 1200 masks per day. They have 15 employees working on this project creating washable masks that can be sanitized and used 40-50 times by medical personnel.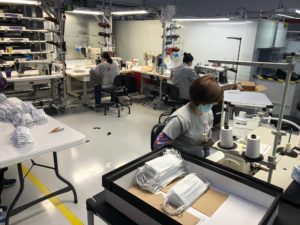 ---
The SOS Marysville Food Pantry is open to serve and ready to help those who need food. The pantry operates out of a building located at 2929 Gratiot Avenue in Marysville. Carmela Burns, who founded the pantry in 2009, told WGRT that people often ask her what SOS stands for. The S stands for Sharing. The O stands for Our. The S stands for Strength. Carmela said her daughter came up with the name.
"Now, more than ever, it is vital we stay united as a community to learn together, lead together, and take care of one other," she said.  The pantry got its start when Carmela Burns felt a calling from God to serve her community. In the past three weeks, they have provided food for over 1000 people, which adds up to $7000 worth of food. The all-volunteer pantry is staffed by 8 people, and due to the COVID-19 health crisis, the SOS Marysville Food Pantry does "no contact" safe delivery. The center operates on donations and grants, including one recently received from the Community Foundation of St. Clair County. For food assistance, people are urged to contact the them at 810-364-6333 to make arrangements.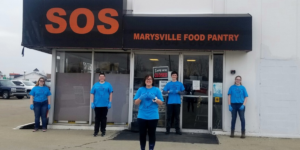 ---
North Lambton Community Health Centre is the tenth recipient to receive a grant from the United Way of Sarnia-Lambton COVID-19 Compassion Fund. They provide primary healthcare, health promotion and community development services to a priority population that includes seniors, First Nations people, mentally ill, low income families, and youth at risk. The $5,000 grant award will be used to assist clients and seniors who may have mental illness or vulnerable health with food, personal and cleaning supplies, and transportation.
The Compassion Fund is comprised of community donations from those who want to help our most vulnerable in the wake of COVID-19.  Donations can be made online at <HERE> or by calling 519-336-5452.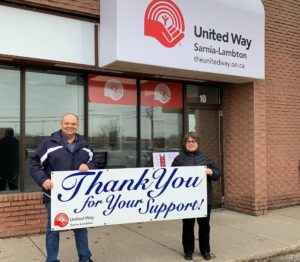 ---
Looking for help? Looking for food? Deacon Dennis at Holy Trinity Catholic Parish has teamed up with Mike's Food Fair. Working together, they are giving away FREE X-Large Pizzas with 2 toppings to anyone who is in need, for a limited time. You need the coupon to get your FREE pizza, so Call Deacon Dennis at 810-531-8232 to get your coupon. Then, take it to Mike's Food Fair located at 1928 – 10th Street in Port Huron, and enjoy your X-Large 2 topping pizza.
Reporting for WGRT – Jessie Wiegand