The National Guard Youth Challenge program just celebrated the graduation of their 44th class, and two St. Clair County youth were part of their ranks. Justin Marsee and Caleb Gelaude completed the 22-week self development program and both received their high school diplomas.
Justin Marsee was a homeschooled 16 year old when he decided to enroll in the program. Now that he has graduated from the Michigan Youth Challenge Academy and earned his high school diploma early, he is ready to pursue a degree in Computer Security at Macomb Community College.
Caleb Gelaude is 17 years old and attended Marine City High School before entering the program. Now, he has secured a job at the New Baltimore Department of Public Works and looks forward to a career in skilled trades where he can have benefits and good pay.
Candace Gelaude, Caleb's mother, and Susan Marsee, Justin's mother, both said it was difficult to say goodbye to their sons for the 5 1/2 month long program. Because of COVID-19, they were unable to visit or see their boys until they graduated, but both said the sacrifice was worth it.
"It was so hard to let him go," said Susan Marsee, "but when I saw him come off that bus, it was all worth it."
""If it wasn't for the Michigan Youth Challenge Academy, I don't know where my son would be," said Candace Gelaude. "Doing virtual [school] set him back a bit, and I was concerned about some of the people he was hanging out with.  When we sent him, I was a nervous wreck; I was emotional, but when I heard the transformation that was happening with him, I knew it was a positive reflection [of the program]. He went there and he excelled. I can't even explain it."
The program emphasizes self-discipline and service, and both mothers shared that their sons have demonstrated those characteristics since coming home.
"It made him use his head and think as a young kid. He understands that there are consequences to his actions whether they be good or bad, and now he talks to my husband and me with the utmost respect," said Candace Gelaude, "The transformation is phenomenal."
The 44th graduating class included youth from 36 Michigan counties, and the voluntary program involves the opportunity to earn high school credit while participating in military activities like drill formations, physical fitness tests, and community outreach.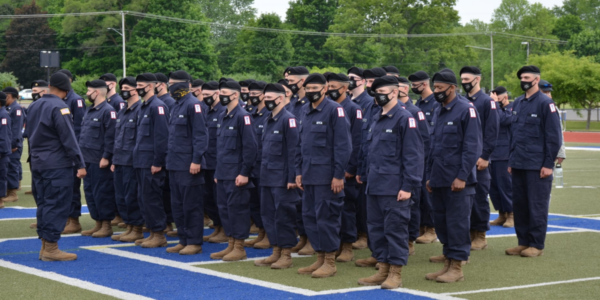 "As part of their Youth Challenge experience, these cadets have provided a total of 2,884 hours of service to their community, averaging 27.2 hours per cadet," said Anica Simmons, deputy director of the Michigan Youth Challenge Academy. "Their volunteer efforts provide additional opportunities for career exploration as well as enhancing community-needs awareness and understanding the importance of giving back."
Youth in the program have to earn privileges by demonstrating discipline and respect for rules and routines. They begin the program as cadets and rank up as they advance in the program and mature in their leadership abilities.
The next session of the Michigan Youth Academy Challenge starts in July and is open now for interested 16 – 18 year old students. Prospective students must participate in an orientation.
To schedule an orientation, contact Frank Vasquez at (269) 968-1397
Reporting for WGRT – Jessie Wiegand