In an effort to support local musicians, The Cheeky Monkey record store in Sarnia is paying the tax on sales of local talent CD's in their store. You can help local Sarnia musicians who earn their living from touring and performing by purchasing one of their CD's at the store which benefits musicians much more than downloading and streaming their music. The Cheeky Monkey loves their local musicians, and wants to help everyone do their part to keep the music makers making more music for everyone to enjoy.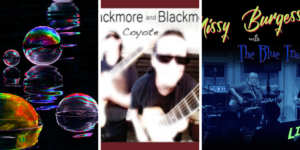 ---
A 3-day bottle and can drive in Sarnia raised $27,255 for The Inn of the Good Shepherd. Over 100 community volunteers collected items and sorted them for 2 weeks. The result was 146 pallets of empties which were cashed in at the Beer Store/London resulting in the generous donation to The Inn.
Organizer Melanie Rogers said, "Wow, with the support of the community, volunteers, and businesses, this is a tremendous amount for The Inn of the Good Shepherd. I am so proud of all involved. Thank you Sarnia Lambton!"
The Inn of the Good Shepherd continues to provide food, meals, and shelter to those in need during the pandemic. This donation is particularly helpful since the Inn's many fundraisers have been cancelled or  postponed due to the pandemic.
---
On June 1st, Port Huron schools will have distributed over 500,000 meals to families in the community since the beginning of the COVID-19 crisis. The district would like to thank the tirelessly dedicated staff and volunteers who have worked to support this program. Meals are distributed Mondays and Thursdays from 10 AM – 12 noon at Garfield Elementary, the Literacy Academy at Cleveland, Port Huron High and Port Huron Northern. For additional sites and times please go to phasd.us
Farm to Family distribution is every Wednesday through June 24, starting at 9 a.m. until all boxes are gone at Central Middle School and Port Huron Northern High School.
Reporting for WGRT – Jessie Wiegand