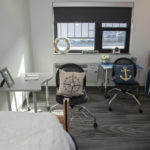 St. Clair County Community College is now accepting applications from students who are interested in living in the college's new residence hall during the 2019-20 academic year.  The college's housing complex, known as The Dock, officially opened Aug. 3, 2018, in downtown Port Huron, making SC4 the first community college in Southeast Michigan to offer student housing. The residence hall provides fully furnished accommodations for up to 80 students, featuring private bathrooms, high-speed wireless internet, parking, laundry facilities and much more.
"This is a great way for students to have a full college experience while not breaking the bank," said SC4's College Housing Manager Nathanial Shrapnell.  In addition to enjoying convenient access to the area's growing arts, entertainment and dining scene, students who are U.S. residents and live in The Dock pay in-district tuition rates at SC4. During the 2018-19 academic year, students from the local community and around the world chose to live on campus.
"I love living here," said Caio Rodrigues, an international student from Brazil who explained that SC4's new student housing was a major factor in his decision to attend the college. "It's given me the chance to connect with different people, and it's great being right downtown and just steps away from the movie theater."  To be eligible to live at The Dock, students must meet ongoing academic and enrollment requirements. Those interested can find detailed information about College Housing and submit an application for the 2019-20 academic year at sc4.edu/housing.